October 2022
It's your classic Kiwi story about improvisation, innovation and humble beginnings. Techlam is a New Zealand owned and operated company based in Levin, with projects spanning the Southern hemisphere. 
The company is celebrating 30 years in November 2022 and started from humble beginnings. Andrew Hamilton was a builder who went out on his own in the early 90s, and in 1992 started making internal archways for houses, using customised curved wood. Working with his son Brett, their first office was in a double garage in Green Ave, Levin.
The business grew in size and product range, and currently occupies a massive space just back from the centre of town. As the years passed, Brett took over the reins and is now the Managing Director at Techlam. Andrew still maintains an active role in the business, working with equipment upgrades and staff development (an area they are both passionate about).
Brett affectionately remembers that the first tablesaw they had was an old skillsaw, screwed onto a sheet of customwood. He also remembers celebrating when they collected their first 10 litre bucket of sawdust. Now they send 20 container-loads filled with sawdust out the gate every day.
Over time they started making replica work for older houses – filagrees, fretwork and period fitments. Then it was curved window reveals for aluminium windows. But no matter what they were working with, it was always laminating from the word "go". It just ended up evolving on a much larger scale.
Now they have a large manufacturing plant in Levin (which is where Head Office is based) and an office in Christchurch and Auckland. It's been quite a journey along the way, and their little 2 man operation in a double garage now employs 55 people.
In recognition of their growth, achievements and innovation, Techlam recently received won the 2022 Construction & Trades Award, and the Innovation Award at the Electra Business and Innovation Awards 2022.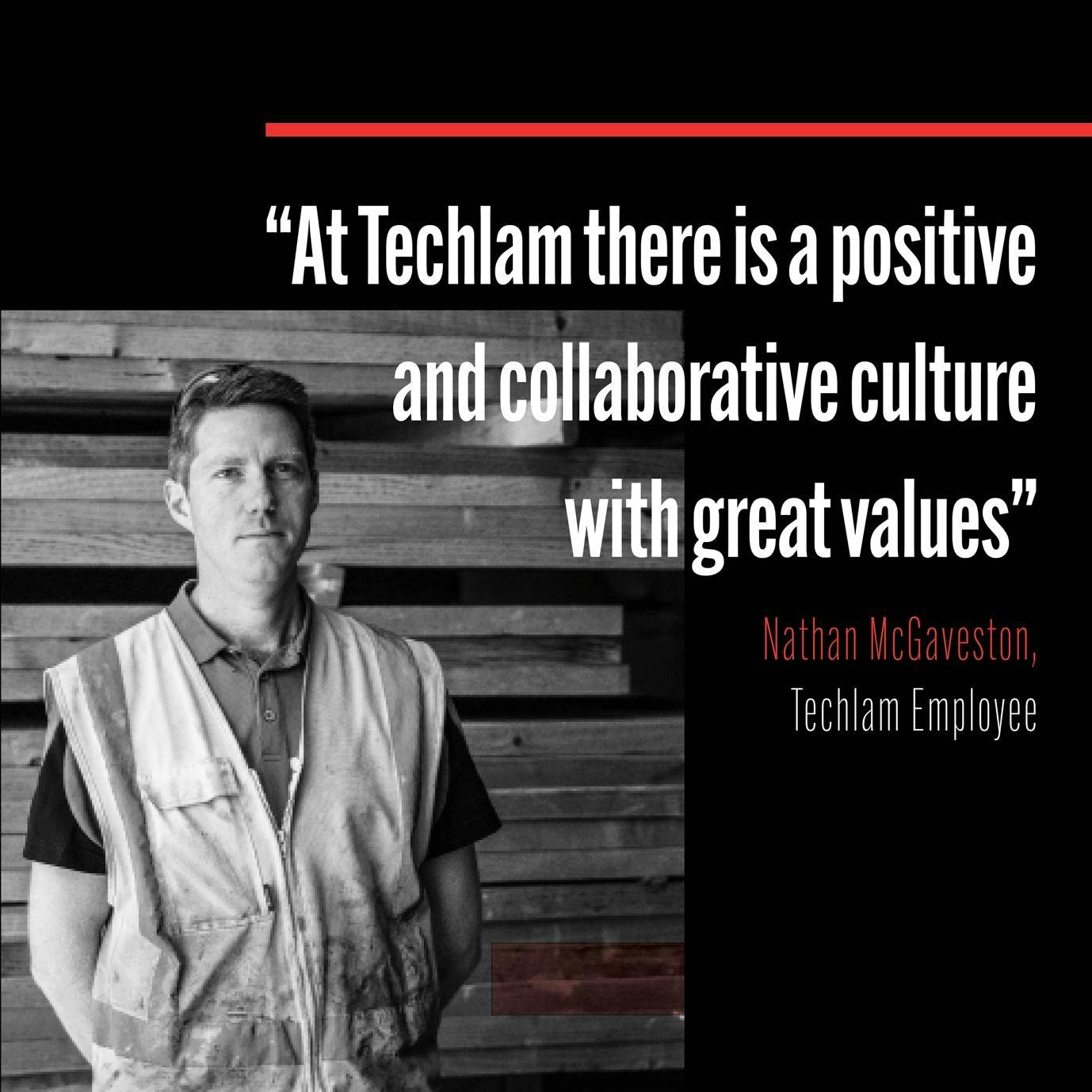 Their main workforce is based in Horowhenua but ranges from Palmerston North to Kapiti. One of their biggest issues is getting skilled staff, or even people who want to come and learn on the job. That's part of the reason why Brett is so heavily invested in Get-Go, because he sees it as part of the solution for the future.
Brett is the Chair of the Get-Go reference group, which is comprised of a team of industry experts from Horowhenua. This group is where Get-Go management report back on achievements, discuss general direction-setting, and receive ideas and feedback on industry requirements – facilitating a channel of communication between schools and industry. He's investing time into Get-Go because he believes that it is part of the solution to alleviate staff shortages, however he knows it will be a long, slow journey to get there.
Brett says Techlam is a great place to work because the team work collaboratively to create amazing, engineered timber structures. They have a focus on "laminated teamwork" - this is very similar to the idea of the very products they create, taking something that is weak and bonding it together to create strength, and the glue that bonds everything together is their culture.